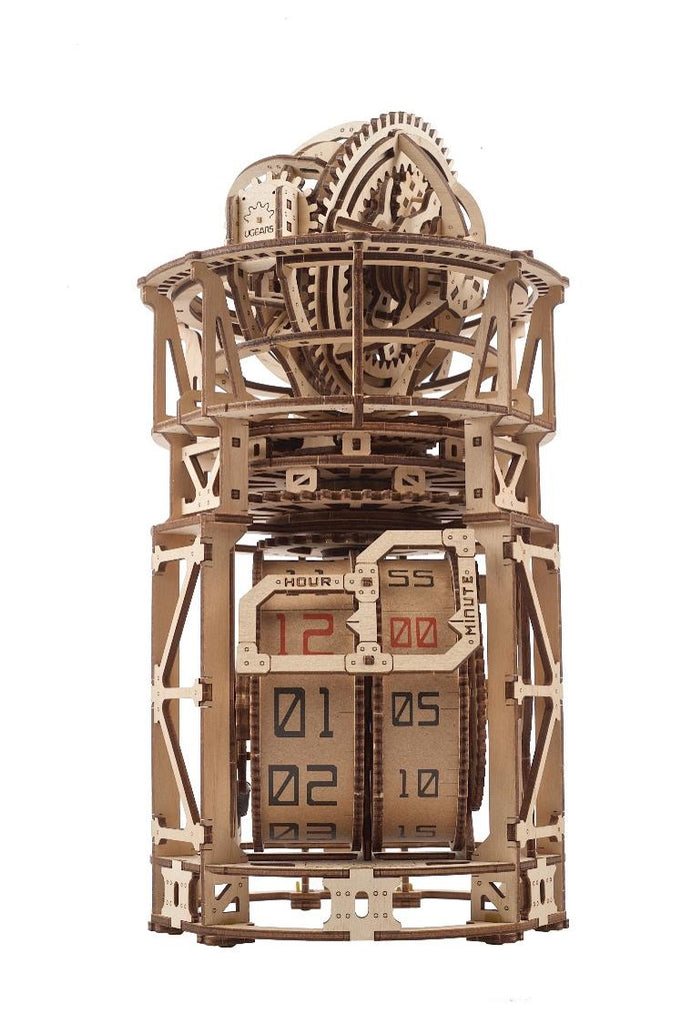 Sky Watcher Tourbillon Table Clock model kit
$189.95
or make 4 interest-free payments of $47.49 AUD fortnightly with
More info
Clocks are complex mechanisms. We bet you never thought you could build your own clock out of wood and have it keep accurate time! To create this amazing DIY clock made out of natural wood, our designers and engineers solved complex problems of friction, gearing, tooth strength, torsion of the clock body and tourbillon axles under spring load. Now the challenge is yours, to build it, bring it to life and become the clockmaker in your own steampunk universe.
The stand-out feature of this functional and beautiful wooden model table clock is the rotating tourbillon that sits on top. In wrist and pocket watches a tourbillon mechanism helps increase accuracy by counteracting the effects of gravity when the watch is stationary. By seating the escape and balance wheel within a rotating cage, slight errors in timekeeping introduced by the force of gravity are averaged out. In table clocks and wall-mounted clocks a tourbillon often serves a more decorative purpose. This is true of the Sky Watcher Tourbillon Table Clock where the sphere of the tourbillon has been styled to resemble a large telescope observatory scanning the celestial sphere.
The Sky Watcher tourbillon mechanism has three axes of rotation: around the vertical axis of the clock, horizontal axis of the clock and relative to the central axis of the inner sphere. The wind-up clock operates based on the accumulation of potential energy in a flat spring and the metered release of this energy. When the model is fully wound it can power the timepiece for approximately 2-3 hours, sufficient for long observation of the mesmerizing mechanism, or to provide a pleasant background ticking clock sound and visual diversion for a period of work or rest. Rather than an all-too-common clock face with hands, this clock creates additional interest by having the time display placed on reels. The minute reel rotates smoothly with the progress of the tourbillon, while the hour reel marks the passage of time with a percussive mechanism.
The Sky Watcher Tourbillon Table Clock will appeal to night sky watchers, star gazers, amateur astronomers, horologists, clock and watch enthusiasts, experienced model builders, 17th century deists, Isaac Newton fans, and anyone who appreciates superior design or a DIY challenge.
| | |
| --- | --- |
| Number of parts | 338 |
| Assembly time | 15 hours |
| Level | Advanced |
| Model size | 30.5 x 18 x 16.5cm |