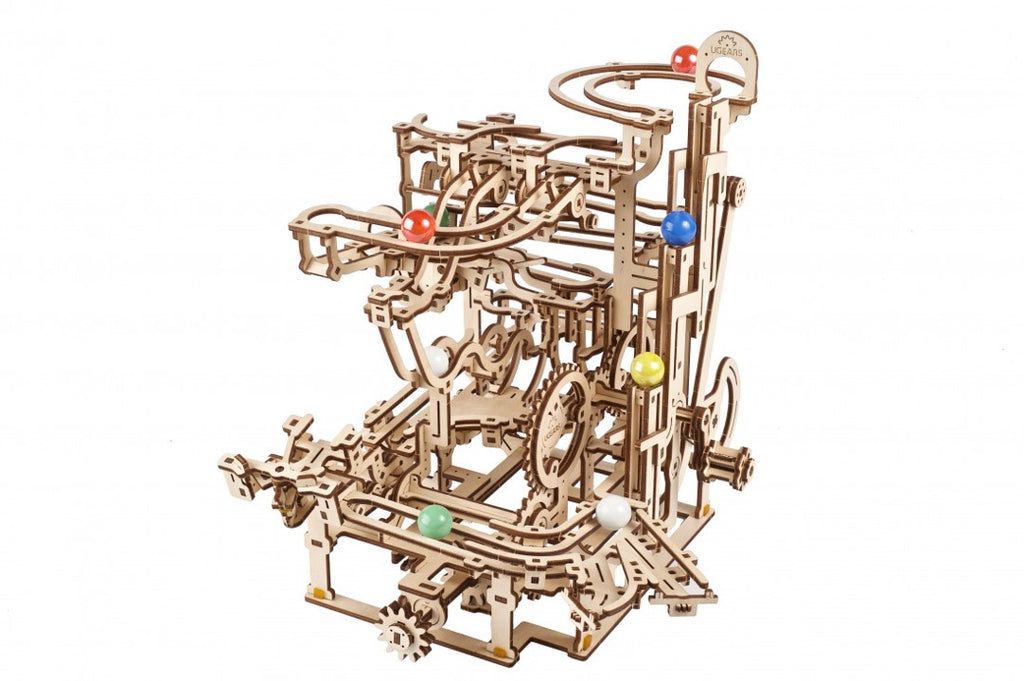 Marble Run Tiered Hoist model kit
$134.95
or make 4 interest-free payments of $33.74 AUD fortnightly with
More info
The fun with marble runs continues with the Marble Run Tiered Hoist, the third in a series of modular marble runs. This unique entrant in the growing collection of entertaining wooden marble runs features a 3-tiered stair lift that raises the marbles to the top for amusement park adventures. This wooden DIY kit is both a 3D puzzle and a fun toy. The Marble Run Tiered Hoist features a fascinating lift, three new track elements, and interesting trap and release mechanisms sprinkled throughout. Turn the hand crank and watch the marbles make their journeys through various obstacles down to the collection tray below. Multiple tracks and elements are packed into a compact space in this well-designed DIY marble run.

Which marble will take which track, and what adventures await? Guessing is part of the fun. The Marble Run Tiered Hoist has three main marble tracks. The first features a marble trap in which three marbles must work together to make their escape. The third ball is the hero, opening the gate for the second trapped marble, which in turn opens the gate for the first—teamwork! All three marbles then escape down a well. The second track is a speedy roller coaster, and the third is a four-level ramp descent. All marbles come to rest in the collection tray, where they form an orderly line behind a gate, waiting their turn for more adventures! A special rocker arm presses the gate down and carries each marble to the return track, where they run like excited school children back to the tiered hoist to begin the next ride.
The model kit comes with everything you need right in the box. Individual pieces are laser pre-cut into high quality wood composite boards, and can be snapped together without need of glue or special tools. There are 10 coloured marbles included in the kit, plus sandpaper and wax to smooth and lubricate the gears and other moving parts.
The Marble Run Tiered Hoist and the entire line of marble runs have been geared to be modular, i.e. the Tiered Hoist works as a standalone or it can be connected frontally or laterally to other Ugears marble runs of the same or different design [2 or 4 models can be connected, in pairs, using the special connectors included in the kit]. A trigger mechanism just before the return track can send marbles back to the tiered hoist, to an adjoining marble run, or toggle between the two (you set your preference with a pull latch). Connect up to four marble runs to form an amazing, complex system of interconnected elements, all powered by a single crank.

| | |
| --- | --- |
| Number of parts | 315 |
| Assembly time | 5 hours |
| Level | Intermediate-Advanced |
| Model size | 27 x 26.5 x 27cm |